28-Jun-2020 (Sun)
Wherein we want your art on our walls.
During this interminable lockdown, we've been doing a lot of repairs and improvements inside the club. Maybe someday we'll be allowed to let you back inside and show it to you.
Anyway, we were thinking that now is a good time to have someone paint some murals to liven up some of our blank walls. We've got a number of good spots for it: the walls on the balcony, next to and across from coat check; the lounge wall behind the DJ booth; the wall under the stairs where the satellite bar used to be; the green room; the restrooms; the pizza hallway; and maybe others I haven't thought of. We don't have anything very specific in mind, but we do have a lot of blank space.
Do you paint big murals? Let's talk. This is a paying gig.
A few photos...
Here are the freshly painted Above DNA stairs, and the arcade nook, both with color-addressable lighting: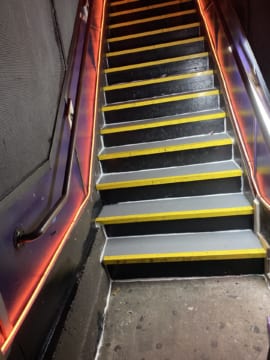 The copper cladding in the restaurant is shiny again, and the floor tiles are immaculate. We also repainted the front of the building on the Pizza side, and the entry alcove.

We were going to paint the boarded-up pizza window to look like a floppy disk, but then someone put this George Floyd stencil on it, so, that can stay.
The walls and floors in Dazzle and the Lounge are looking pretty fine:
Look at the paint job on this gogo box, just sitting here lonely, waiting for you to come in and fuck it up!
10 Responses:
Comments are closed because this post is 2 years old.