15-Oct-2015 (Thu)
Wherein you will find us to be very empowering.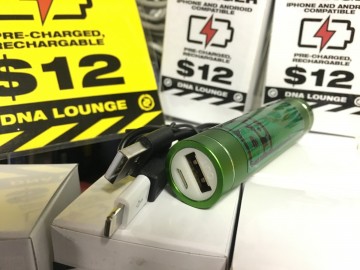 People lose their minds when their phones run out of juice, and then they ask bartenders to let them plug their phone in behind the bar, and don't understand why we always say no. "But you don't have to do it for everybody, just for meeee!"
It's common at festivals these days for there to be lockers that have chargers inside of them, and I spent about a minute pondering how hard it would be to build one of those when I realized that was just making a whole new set of problems like left-behind phones and lost keys.
So instead, we're now selling DNA-branded cell phone chargers at coat check! Twelve bucks.
I don't know how high-quality the batteries or the cables are, since (like most microchips) they are constructed primarily from sadness and the bone marrow of Chinese prisoners, but I can definitely guarantee you that it's the cheapest phone charger between you and your car.
You know there's also a 40-outlet power strip under the customer side of the Pizza bar, right? I'm not sure most people have noticed that that's there.

43 Responses:
Comments are closed because this post is 7 years old.