The conversation went like this:
"The fire marshal says we need a different connector on the thingy by the door."
"How is this possible? Did they change the connectors on the fire trucks since 2001?"
"I don't know. He's very insistent, though."
"Ok, I guess we have to do it then. Find out what we need and get one."
So, someone had the sprinkler maintenance company come out and they installed this thing. Besides the fact that there's a cap on it, can you tell them apart? Neither can I.
They charged us $800 for this. $450 for the part, and $350 for "installation". Which, as far as I can tell, was "unscrew the old one and screw on the new one."
Except I have a strong suspicion that the pipe wasn't the only thing getting screwed here. In an ideal world, one of my henchmen would have said "$800 for that, you must be mad", found out the model number, and just eBayed the stupid thing. I do not live in that world.
You recall the other classic scam the fire-equipment-service people pull, right? As I reported in 2000:
You need to have your extinguishers charged once a year. So after nine months, someone from the extinguisher company will stop by and say "I'm here to service the extinguishers." Doubtless whoever answers the door will just say, "uh, ok." Then they bill you for it, and mark the extinguishers as being good for another twelve months. But this means they're charging you for four years worth of service every three years!
This world: less than ideal.

Hey, check this out, it's a video of Consolidated playing at DNA Lounge eighteen years ago! If you watch closely, you can see the different shape of the old balcony railings, and the four-sided bar, with the glowing glass blocks that the bottles sat on.
Which reminds me. I have a complete listing of all the bands that have played here under my watch, but that only takes us back to 2001. One of these days, I'd sure like to construct a listing of all the bands that have played here since 1985. Someone dumped a few pre-2001 band names into the DNA Lounge Wikipedia entry, but I have no idea where that info came from.
Sadly, that time period predates most of the interweb. We're lucky if newspapers have working archives going all the way back to Aught Six, let alone the Nineteen Hundreds.
A few years ago I tried to track down an archive of Steve Koepke's ancient photocopied handbill "The List", since many DNA shows were listed there, but the only archive that I've ever found is this one, and it only goes back to 1994.
Any ideas?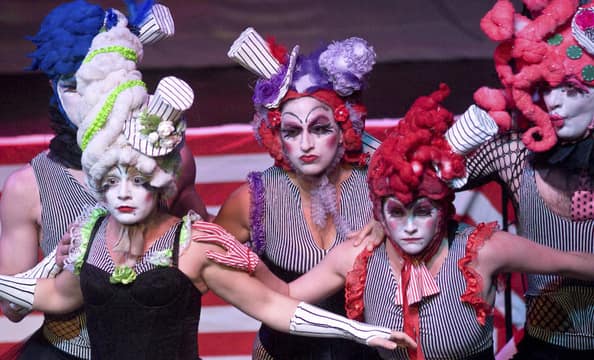 Photos are up of the Meat Seven Year Anniversary, Bohemian Carnival, and Baxtalo Drom.
I spent a while digging through the Google Usenet, SF Weekly and Chronicle archives looking for evidence of old DNA Lounge shows, and found quite a bit. Besides show announcements, there was also a lot of info to be spotted from people discussing the shows they had just seen, and a surprising amount of info buried in bootleg-trading lists.
So, I put up what I found. It's still dramatically incomplete.
I can't remember what the first show I saw at DNA Lounge was. I know I was at the Machines of Loving Grace show in 1992, but I'm pretty sure I had seen shows here before that. That's the oldest one on the current list that I attended, though.
Go get out your shoebox of old club flyers, dig through it, and tell me what you find!

Important news: we are having a metal show tomorrow night, with Winds of Plague headlining, and the fourth band on the bill, All Shall Perish, will be the 666th band to grace our stage since we re-opened in 2001! Throw the goat.
Then there's this:
Bars, pubs going strong in down economy

Bars, pubs and other purveyors of intoxicating elixirs saw more job growth in the past year than any other business sector -- even as most other businesses in San Francisco and San Mateo counties lost jobs.

New California Employment Development Department annual data reveals that the number of jobs in alcohol "drinking places" grew from 3,000 to 3,400 in the two counties from January 2008 to January 2009. That's a bigger job growth than any of the other 94 business sectors tracked.
Man, I wish that was true.
Well, I guess it is technically true, just not for anyone in the business that we're in. The businesses that are doing well are the ones with basically no staff. If you run a small bar, where your entire staff consists of one bartender and one doorman, you're doing great. If you run a dance club or a concert venue, it pretty much sucks to be you.
Basically, late-afternoon happy hours are doing great, and everything else is tanking across the board.
Oh, also we just got a citation for there being gum on the sidewalk. Gum. On the sidewalk. So hey, please don't spit your gum on the sidewalk, you savages.

I'm at South By Southwest. I came for the whole thing, Interactive, Film and Music. The Interactive and Film parts are still going on, and Music starts up in a couple of days. I don't really care about any of the computer conference part of it, but I came early because I just needed to get out of town.
Austin is a pretty amazing city. The density of music venues is like nothing I've ever seen. I know we're here during a gigantic music festival, but this infrastructure doesn't just go away. I wonder what it's like at other times of year. Even though the music part of the festival hasn't even begun yet, the nightlife is just crazy. We've hardly been to a bar or club that didn't have a capacity of almost a thousand, and they have all been divided up and laid out in totally sensible ways.
There are many things about this place that shock me. The first is to see what it's like when the local government actually supports the entertainment industry. At home, the best I can ever hope for is for them to not be an active hinderance!
Right now I am looking at a street sign - a municipal street sign, presumably suported by an ordinance and everything - that says "Restricted lane, musician loading and unloading".
I am not making this up!
Another thing I find really striking is the almost complete disregard for safety and accessability. For example, a lot of this neighborhood consists of converted warehouses, so the sidewalks snake up and down the loading docks, with crumbling stairs and ramps at the street corners. This means that the main entrances to many bars and restaurants are on sidewalks where, four feet out the front door, there is a six foot drop to the street. With no railing.
Now, that doesn't sound like the best idea, granted, and accessability is nice, but think about what that lack of railing means. It means that someone opened a bar and at no point did a bureaucrat force them to spend money to protect people from themselves! It also brings to mind the image of a cop saying to a fallen drunk, "Well what'd you go and do that for? Guess you'll look where you're going next time!"
There is a dramatic lack of nanny-state here. And it seems to work just fine.
Also shocking: I have yet to see any bar or club employee treat anyone badly in any way.
I fanboyed a bouncer.
Some guy threw up on himself and passed out, and before they carried him out, they wiped off his face. And they were smiling and kind the whole time.
After they were done, I said to one of the guys, "Hey, were you the one who threw that guy out?" He said, "We prefer to think of it as 'helping him out'." Oh man. He really said that. And then I just started gushing about how amazed I was, since I can't seem to get my staff to consistently be nice to anybody. It's a constant battle.
So all of these experiences say to me that Austin understands that having an entertainment industry and a vibrant nightlife actually makes the city better, rather than being a blight that must be destroyed at all costs.
San Francisco: You got served.
By Texas.

I was talking to one of the locals about how shocked I am to be in a city that cares about entertainment, and he said, "Well, it's not all great, sometimes the clubs are hassled over noise."
I said, "Oh, I'm sure you do have noise abatement problems -- in your own little way!"
"What do you mean?", he asked.
"Ok, just to clarify: around here, if a band is playing, it's normal to be able to hear them from a block away, right?"
He said, "Well yeah. How else would you know if you wanted to go in?"

Hey, we won some more awards! In the SF Chronicle's "Best of the BayList", we won twice in the "Best Dance Club" category: 1st place for Bootie, and then 4th place for DNA Lounge.
Last week we got something else, too: ABC's official decision from our January 13th hearing. Their decision, unsurprisingly, is for outright revocation of our liquor license.
Our fight continues.
A reminder of how this works: At the hearing, we were before an Administrative Law Judge, who is a real judge, but whose decisions are not binding. Basically, he works for the ABC as a legal advisor. In this case, his "advice" to them was that ABC's decision to revoke our liquor license is not illegal. So they are pursuing revocation, which is to say, they still intend to put us permanently out of business.
Next, we file another appeal, which (if I understand things correctly) will take us before another kangaroo court embedded within the ABC bureaucracy, the ABC Appeals Board.
I'm not sure when that will happen, but it will likely be several months from now. It will certainly cost a lot of money.
Won't you please donate to our legal defense fund? Every little bit helps.
Please also join the The "Save DNA Lounge" Facebook group. We're up to 2,300 members now!

Well, a lot of people seem to be wildly misinterpreting what I just wrote, so I guess I'll have to use smaller words.
We are not closed. We will not be closing any time soon.
Our liquor license has not been revoked.
All that happened is we got a piece of paper making ABC's threats official. They told us that they were intending to attempt to revoke our liquor license. Now we have a piece of paper that says that they are actually attempting to revoke our liquor license. This is how these bureaucratic processes go.
Our license has not been revoked. There is a very long (and very expensive) appeals process before that would happen. We expect to win this appeals process. But did I mention that it will be expensive?
And did I mention that we have a legal defense fund?

Photos are up of Alaska in Winter, Intermission and Geographer, which was a really good show! I liked all three bands, but I'm pretty sure this was the first show we've had where every subsequent band had progressively fewer people and less gear. Alaska in Winter played in front of six copies of himself on DVD, which are normally the kind of shenanigans of which I do not approve, but it was actually really funny.
Also up are photos of the most recent Meat vs. Death Guild (of which there is another this Friday).