18-Oct-2006 (Wed)
Wherein we're all left blinded by the backlight.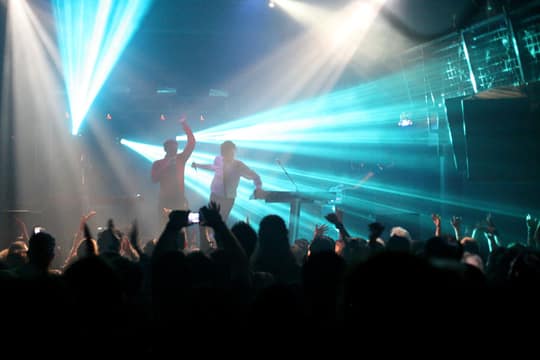 Photos are up of the Covenant + Imperative Reaction + Rotersand show.
They brought a truly gargantuan set of lights with them: they hung a truss on the back wall of the stage, and hooked their lighting controller into our lights plus theirs. It looked fantastic! (Doubling the number of intelligent lights in the room will do that...)
That made it pretty hard to photograph, though: the show was heavily backlit, and their lighting guy was, like all lighting guys, obsessed with using solid reds. As you know if you've ever taken a picture in a nightclub, solid red light usually means "don't even bother trying to take a picture". Cameras, especially digital cameras, have very little dynamic range in red. Neither does the human eye, but cameras are a lot worse. I think I got some decent shots, though.
We finally passed our last inspection for the kitchen! That means that we're technically allowed to serve food from it. Just as soon as we have the money to buy some stuff like a microwave, a hotplate, and... food. Which we don't. Stay tuned.

22 Responses:
Comments are closed because this post is 16 years old.