13-May-2004 (Thu)
Wherein we meet the Scumdogs of the Universe!
"We need to buy some carpet to cover the stage."
"A carpet? What for?"
"GWAR needs to route their blood hoses underneath it."
Man, what a fantastic show! Somehow I'd never seen GWAR live before, though I'd been hearing about them for years, and had seen some video. It was amazing. The show was packed, and everyone there was completely nuts for the band. They were even really funny while they were setting up, and during sound check. As they were filling the stage with their horrible monsters, one of the guys took what looked like a rubber large intestine and wrapped it around the head of one of the dummys: "look, a colon crown!" Then during sound check, they kept building on that theme: "New, from GWAR, Coca-Colon!" A little while later one of the other guys says, "Bottled at the source!", and everyone busts up.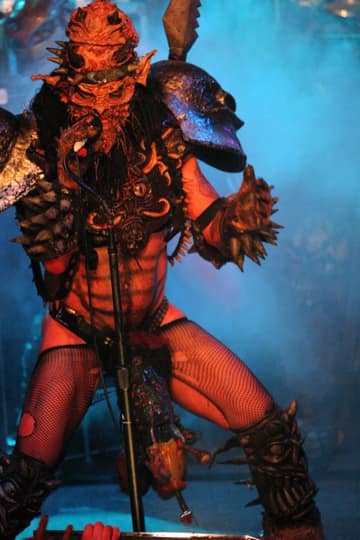 GWAR are from Antarctica, and they have come here to rock, and to kill. And they do both very well. It's a very wet show, full of incredible costumes and eviscerated celebrity guests.
Check out the photos!
Surprisingly, I think that GWAR was actually less messy than Incredibly Strange Wrestling was. GWAR was just a hundred gallons of fake blood, whereas ISW's thousand pounds of crumpled tortilla shells was the gift that keeps on giving.
"We all enter this world in the same way: naked, screaming, and soaked in blood. But if you live your life right, that kind of thing doesn't have to stop there." -- Dana Gould
13 Responses:
Comments are closed because this post is 18 years old.