Photos are now up of Genitorturers on Thursday, and Zombie DNA on Saturday, our mid-year Halloween party.
Angela set up a little photo booth that night, so we're trying something new this time: we're selling high quality prints of the Zombie photos in our online store. If you got your picture taken that night, you're in there. (There's a second page with the full gallery of everyone.) 5"x7" prints are $7, and 8"x10" prints are $14.
The event itself was an amazingly good time! The premise of the show was that Zombie Labs is conducting experiments to see how much of their previous skills the recently-dead retain; so they brought out a cage full of zombies, and had them perform their pre-death cabaret acts. If the zombies did well, they were rewarded with
a tasty treat from the cooler full of brains. If they did not do so well, they went into the woodchipper, I mean, the Zombie Labs NecroShred 3000, pictured on the right! Though it's too late to get sprayed with blood from it, you can still listen to what this fine piece of equipment sounded like.
Our drink special that night was (of course) Zombie shots, with a splash of Bailey's for extra chunky encephalivore goodness.
The show got a very nice (and long -- more than a full page!) write-up in The Weekly. Based on that, we've had a few people calling the club wanting to know when the next one is...
But enough about zombies, now let's talk about bloodsucking parasites. We just renewed our liability insurance, and it's gone up again by like $4,000: it's now $50,000 a year! When we opened in 2001, we were paying $21,000/year. We've never filed a claim, but it doubled almost immediately after those Great White pigfuckers went and blew themselves up.
The wonderful new kink this time around is that now the insurance companies are offering "terrorism insurance" for an additional charge. You can connect the dots on what that means, right? It means that if you file a claim, and the insurance company decides that, if they squint just right, it looks like "terrorism", then they don't have to pay. And as we all know, here in These Uncertain Times, absolutely everything is considered terrorism. What do you want to bet that they'd consider someone getting maced to be terrorism? After all, it's a chemical weapon.
But enough about bloodsucking parasites, let's talk about the music industry. The other day a bunch of us went to see The Pixies up at UC Davis. (It was a great show, but lousy sound quality, being as it was in what was essentially a gymnasium.) But anyway, I mention this because of a cool thing that they were doing: they were selling CDs of that night's performance, and they were available for pick-up not more than 20 minutes after the show ended! They said they sold 1,000 discs (and it was a two disc set.) It's a nice quality package, too: the disc face was printed, and the jewel case looked totally professional. It sounded better than the mix in the room did, too. DiscLive are the folks who were responsible.
There was also an article recently about a company called eMusic Live who are trying to do a similar thing, but instead of printing CDs, they have kiosks that download an MP3 of the show onto a USB memory stick (which they'll also sell to you if you don't have one already.)
Cool stuff.

Photos of the Death Angel show are up now. One of our new security guards was having a hard time with the pit, telling whether people were fighting or moshing. He said, "we don't have this in hiphop. If this was a hiphop show, four people would have been shot by now."

"We need to buy some carpet to cover the stage."
"A carpet? What for?"
"GWAR needs to route their blood hoses underneath it."
Man, what a fantastic show! Somehow I'd never seen GWAR live before, though I'd been hearing about them for years, and had seen some video. It was amazing. The show was packed, and everyone there was completely nuts for the band. They were even really funny while they were setting up, and during sound check. As they were filling the stage with their horrible monsters, one of the guys took what looked like a rubber large intestine and wrapped it around the head of one of the dummys: "look, a colon crown!" Then during sound check, they kept building on that theme: "New, from GWAR, Coca-Colon!" A little while later one of the other guys says, "Bottled at the source!", and everyone busts up.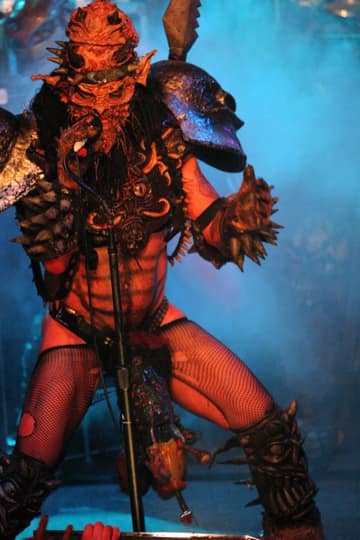 GWAR are from Antarctica, and they have come here to rock, and to kill. And they do both very well. It's a very wet show, full of incredible costumes and eviscerated celebrity guests.
Check out the photos!
Surprisingly, I think that GWAR was actually less messy than Incredibly Strange Wrestling was. GWAR was just a hundred gallons of fake blood, whereas ISW's thousand pounds of crumpled tortilla shells was the gift that keeps on giving.
"We all enter this world in the same way: naked, screaming, and soaked in blood. But if you live your life right, that kind of thing doesn't have to stop there." -- Dana Gould
All of our t-shirts are in stock now, so if you've been waiting to buy them, now's a good time! Actually we've been mostly stocked up for a while, but our last missing batch of girlie tees finally arrived. (We have not been experiencing what you would characterize as speedy service from our various t-shirt printers...)
Way back in October 2001, Storm Inc. played here, and were recorded for a TV show called Locals Only. (Storm's new band, The Balls, also opened for Nina Hagen a few months ago.) Anyway, I've just learned that video of that 2001 performance here at DNA is online at tunemytv.com! Pretty good quality, too. These are Windows Media files (but beware, their server is misconfigured and sends them as text/plain, so you may need to shift-click to save them.)
Photos are now up of:
You may recall that earlier this month I mentioned attending a show where CDs of that night's performance were available immediately after the show, and how cool I thought that was.
Well, ClearChannel is going to put a stop to that, by golly! In case there was any doubt that ClearChannel is the Great Satan, check this out: Clear Channel Limits Live CDs: Company to block bands from selling instant albums.
The recording-and-burning company DiscLive estimated on April 12th that it would gross $500,000 selling live discs this spring alone. But in a move expected to severely limit the industry, Clear Channel Entertainment has bought the patent from the technology's inventors and now claims to own the exclusive right to sell concert CDs after shows. The company, which is the biggest concert promoter in the world, says the patent covers its 130 venues along with every other venue in the country.

"We want to be artist-friendly," says Steve Simon, a Clear Channel executive vice president and the director of Instant Live. "But it is a business, and it's not going to be 'we have the patent, now everybody can use it for free.'"

"It's one more step toward massive control and consolidation of Clear Channel's corporate agenda," says String Cheese Incident manager Mike Luba, who feuded with Clear Channel last year after promoters blocked the band from using CD-burning equipment.

The Pixies, who are booking a fall reunion tour with several probable Clear Channel venues, say Clear Channel has already told them DiscLive can't burn and sell CDs on-site. "Presuming Clear Channel's service and product are of equal quality, it may be best to feed the dragon rather than draw swords," says Pixies manager Ken Goes. "Still, I'm not fond of doing business with my arm twisted behind my back."
Apparently the patent in question is US Patent 6,614,729, issued September 2, 2003. It is, as you would presumably expect, bullshit. From what I can tell, what the so-called "inventors" have patented is this process:
Record audio digitally;
Manually divide the stream into "tracks" as it is coming in;
When finished, send the tracks to multiple CD burners.
The United States Patent Office has found this "invention" to be so novel that is has granted a twenty year monopoly to the "inventors." This means that ClearChannel will get to decide who, if anybody, can make on-the-spot recordings of any concert until 2023.

Photos are up of tonight's King's X / Doppler Inc show. I took them this time, and they came out quite a bit better than my photos usually do, because today I finally broke down and got a new digital camera. I replaced the Nikon Coolpix 990 that I'd been using for almost four years with a Canon EOS 10D (the same camera that Angela uses) and a Canon EF 24mm f1.4L USM lens. It is so choice. If you have the means, I highly recommend picking one up. It's almost like my previous camera wasn't even a camera: the 10D blows it away on so many levels. Focus is fast, it can take 3 shots a second for a total of 9 before stalling on the card, and I can shoot in normal club lighting at 1/60 or faster with no flash! I'm very impressed. Its only drawback is that it's a real camera with a real lens, which means it's big and heavy and doesn't fit in my pocket. But, that's still the only choice if you want "not junk."