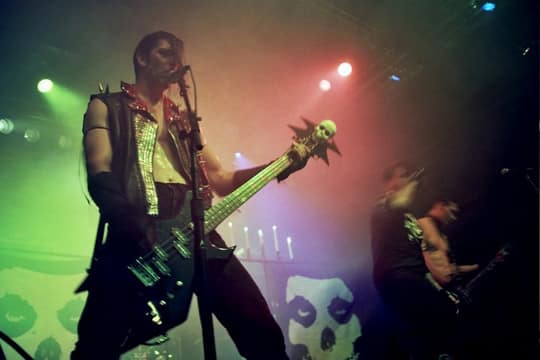 Photos of the Gotham Road / Plan 9 / Hypercenter and Scar Tissue / Kontinuum shows are up now. Scar Tissue was great; it's been far too long since I've seen them. Live drumming, singing through toy megaphones, playing guitar by holding electronic talking toys against the pickups: this is what an industrial show should be. (It should not be, just as a hypothetical example, one guy manning the DAT and another guy doing a VNV Nation impression.)
Both the thursday and sunday shows were, if not our least-attended shows yet, pretty close. We got around 30 people each night, meaning we lost several hundred bucks on each show. I'm still glad we did them, but this place looks pretty barren with that few people in it...
Tomorrow night is the final CODE event, which is sad. Cybrid are performing, and they're a lot of fun, so come see. CODE was the first event we promoted ourselves, and we'd been planning it for almost a year before the club even opened. Though, since it changed its focus a few times, it was really three different events that shared the same name.
The first incarnation was every friday, with alternating fridays being trance-oriented, and drum+bass oriented, respectively. The connecting theme was "electronic music that is fast, dark, angry, and heavily influenced by industrial." Well, that was a flop: few people showed up, and those who did were followers of particular guest djs and didn't come back when their guy wasn't spinning. We had no regulars to speak of, and none of my friends came, because they were scared away by A) unfamiliar-though-similar music, and B) the track-suits-and-baseball-caps dress code of the ravers.
It was costing too much, so for its second incarnation, we moved it to thursday; we kept the same theme in the main room (with a lower budget), but gave the goths their own "industrial ghetto" in the lounge, hoping the two rooms would cross-pollinate. Of course they didn't, at all. At this point, the music booked drifted from "psytrance and drum+bass" to "electro and electro", with the occasional "house" slipping in when guest djs ignored the theme. We had the same 8 goths in the lounge every week, so we gave up on that.
In its third and final incarnation, we turned over the reins to Shane and Amber, letting them do their thing without me and Barry interfering. They made another go at it, doing electro and breaks. But, now they've decided to call it quits, so I guess that's the end of that!
This ending comes shortly after a couple of interesting CODE-related developments: they've been filming a TV show ("CODE TV") which is currently planned to run on public-access, but I gather they're trying to get a slot on one of the local stations. Now that the CODE event is ending, they're planning on taking the cameras around to different clubs.
Also, CODE got a mention in the 2003 Best of the Bay issue of The Guardian. It said:
Best Place to See an Electronic Duo Score 'My Dinner with Andre'
As far as SoMa spaces go, the DNA Lounge has definitely stepped to the plate in the post-1015-relevance era. Resident DJs Shane and Amber have been putting on :CODE there every other Thursday since the club's impressive renovation two years ago, spinning a consistently good mix of acid techno, ghetto breaks, glitch, and drum 'n' bass as well as showcasing live acts when they can. :CODE's a good party, and the night we saw experimental duo Idiom Creak perform was no exception. What was exceptional was watching kids get down to their bizarro breaks while the two scored epochal indie film My Dinner with Andre on the fly. Kids who didn't exist when the film came out in '82 were shakin' it beneath the projected image of Wallace Shawn waxing philosophical as Idiom Creak trickled dialogue into the mix along with their spastic beats.
So, our first award: we got a plaque that says "Best Place to See an Electronic Duo Score My Dinner with Andre", which makes every single person who sees it go, "What the hell is that supposed to mean?" or occasionally, "Who's Andre?"

10 Responses:
Comments are closed because this post is 20 years old.