Well, we got it working, sort of. The club's only connection to the net is now the wireless link, and we got it up and running before doors opened last night. But, we don't have enough bandwidth to actually make the webcasts work. At one point, it seemed like we were getting 11 megabits, but once I brought all the servers back online, it seemed more like two dixie cups and a string. And, since I forgot to update some things before the switch, all email to or from the club is bouncing. Yay.
Halloween was great fun, though. Ow, my head.

It keeps feeling like we're 95% of the way to getting this wireless link working, but then I remember that once we've actually seen decent performance for more than ten minutes at a stretch, we're still going to have to contend with all sorts of other things, like fog, rain, and pigeon shit. We're probably more like 20% done.
Normally I would have given up on this long ago, because it's just so damned sketchy, but the sad truth is, it's our best option. We can either get this working, or we can be totally offline for two or three weeks.

We're up and running over wireless, with around 15% packet loss (which is... not good.) Surprisingly, RealVideo seems to be mostly coping with it ok, but the MP3 streams aren't. Well, at least email is getting through, so the fire's out.
In more interesting news, a whole bunch of new pictures are up: the Thrill Kill Kult / Cherrie Blue / Voodou show; and also, our Halloween party. Both nights were so much fun. More like that!

In my last update, I didn't gush on at length about how great the Thrill Kill Kult show was, but man, it was incredible. I've seen them maybe half a dozen times, and they tend to play pretty different sets each time. The last time I saw them (about six months ago) they played mostly stuff from their latest album, but this time, they played almost entirely stuff from the first three albums (I See Good Spirits, Kooler than Jesus, and Confessions of a Knife) which are some of my favorite albums ever, so that was just fine with me... The show was loud and sleazy and evil, the way music is supposed to be.
Long before we opened, when we were still designing this place, I made a video tape containing all the cool nightclub clips from movies and music videos that I could find: I wanted this place to look as looming and industrial as clubs in the movies always do, so I put this tape together to show our architect and contractor what I had in mind.
The first two clips on that tape were the video for "The Wild Boys" by Duran Duran, and Thrill Kill Kult's performance in The Crow.
I had completely forgotten about this until halfway through TKK's show last week, when they played "After The Flesh" (also known as "Nervous Xtians.")
So there I am, in the middle of the floor watching the band on stage play this song, and I'm looking around the room and comparing it, in my head, to the clip from the movie: a clip that I've watched literally hundreds of times, often a frame at a time, picking apart every perceptible detail. And I'm thinking, aw, hell yeah. We did alright.
John and Tom re-aligned the dishes, and got really good, consistent signal strength out of them (around -45dB) but we still can't get any decent sustained bandwidth through them: not even enough for a single 128k MP3 stream to survive for more than a minute. Just after rebooting the routers, we get like 2% packet loss, but as soon as we start pushing a lot of bits through them, the loss goes up to around 50%, and if we keep it up, sometimes the routers wedge and need to be power-cycled.
The dishes we're using are Hyperlink 24dBi antennas, being driven by 100mW Linksys WAP11 2.2 boxes. We've determined that our cabling is fine, and that signal strength is good. So that leaves the WAPs themselves. (We tried them in both bridge and access point mode, and AP mode seemed somewhat better, though still sucky.) Our current best theory is that the Linksys boxes we're using are junk: they claim to do 11Mbps, and maybe they do, in a burst. But from all appearances, the best sustained throughput they can handle is on the order of 64k. We might as well be using a modem over a normal phone line to get that!
John's trying to talk someone into giving us some beefier WAPs to use, but the higher grade stuff is way more expensive. It's going to be at least two weeks until our T1 is installed, so that probably means no webcast for the Beyond the Pale festival, which sucks.
We've been making constant jokes about the following for the last two weeks:


ON THE LANDING PAD. BISHOP LOOKS WISTFULLY AT THE DISH ASSEMBLY.
Bishop:
We can't align the dish.
Ripley:
Someone's going to have to go out there. Take a portable terminal and patch in manually.
Bishop:
I'll go.
Hudson:
Oh yeah, sure, with those things running around? You can count me out.
Hicks:
Yeah, I guess we can just count you out of everything.
Bishop:
I'll go.
Hudson:
Yeah, that's right, you go man.
Bishop:
I'll go.
Ripley:
What?
Bishop:
I'll go. I mean, i'm the only one qualified to remote-pilot the ship anyway.
Hudson:
Yeah, right man! Bishop should go! Good idea!
Bishop:
Believe me, I'd prefer not to: I may be synthetic, but I'm not stupid.
INSIDE THE CONDUIT, LEADING TO THE UPLINK ASSEMBLY.
Ripley:
How long?
Bishop:
This conduit runs almost to the uplink facility, 180 meters. Say, 40 minutes to crawl down there, an hour to patch and align the antenna, 30 minutes to prep the ship, and about 50 minutes flight time.
Ripley:
It's gonna be close. Good luck.
Wind blow dish down, go boom.
Apparently we didn't tighten the bolts enough, and last night we had our first rain of the season. "What do we need lightning arrestors for?" we said. "When's the last time you saw lightning in San Francisco?"
So, we waited until this afternoon to send Bishop down the pipe to re-align the dish, since he didn't want to brave the roof in 70+MPH winds last night. Sissy.

Wow. We got the new T1 up and running about 12 minutes before doors tonight. So we have a webcast for Beyond the Pale.
Whew.

The Beyond the Pale shows were really great. Pictures will be up eventually, once Angela gets around to scanning the 16 rolls of film she shot. If you were at the show, you may have noticed that the stage was bigger: last week, David built some removable side extensions, so that we can make the stage be about 8' wider overall. Since we had four bands' worth of gear on stage each night, this helped a lot...
Tonight we had a different kind of event: it was sort of a vocal recital for a music school; the graduates each did a short performance. I missed most of it, but one of the bits was a girl doing the Josephine Baker thing, wearing a skirt made of bananas, with accompaniment from a fellow dancing in a gorilla costume. That was great.
Later this evening we were sitting around watching a movie, when Ron spotted someone tagging our door. So Barry and Big Dave followed them down the street and caught up to them before they got in their car, and convinced them that it would be a good idea for them to come back and clean up their mess. "Yo, it's not like it's yo house or sumpin', yo," said the scrawny suburban white boy.
Here are some pictures of the little shit-worm vandal scrubbing his handiwork off our door.
Personally, I was in favor of having his legs broken instead, but that's why I let other people make those decisions.
Barry thinks that the fact that we didn't have them arrested means that they'll be less likely to tag us in the future. I think he's delusional. These little Beavises are all mentally ten years old: instead of carving "fuck" in their school desk, or pulling the legs off spiders, now they're spraypainting their name on other peoples' property. Same shit, different day. I don't think you can reason with someone so developmentally stunted.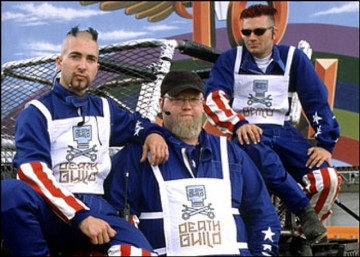 Speaking of Big Dave, you should all watch Full Metal Challenge on The Learning Channel on December 1st (10pm and 1am ET/PT). He and the Death Guild crew went to England and built a "Mad Monkey." There are pages for the Death Guild team on the FMC site and the the TLC site.

Ron wanted me to make sure that everyone understood that he didn't just spot the shit-worm, he was also involved in the "giving chase" and the "standing there looking mean" parts of the festivities. Go Ron.

Surprise! That same shitworm tagged us again. My lack of faith in humanity is confirmed.
And in related news, on friday, Ben caught some guy peeing on the floor, right next to the door leading backstage. He saw him lurking back there and guessed he was doing drugs. So Ben came up behind him and turned him around, only to see that the guy had his dick in his hand. "Ok, first, put that away. Second, you're coming with me." He dragged him out by the scruff of his neck saying something to the effect of, "you're lucky I don't turn you upside down and mop it up with you!"
As he was getting ejected, the guy's friends noticed, and showed up to plead his case and explain how "it's cool," as people often do when their friend is being shown the door. Ben says, "I'm sorry, your friend screwed up, and he has to go now." "Aw, come on, what did he do?" "He peed on the floor." At this point they back up, and go, "Aw, dude!" No more argument. Apparently that crosses the line even for them.
For those of you playing the home game, here are some handy definitions of phrases commonly employed by the clubgoing public:
it's cool - '&ts kül -
1: "Leave me alone and let me do what I want."
Ex: "You can't take your drink outside." "Nah, it's cool."
it's all good - '&ts ol ''gud -
1: "Leave me alone and let me do what I want."
Ex: "You can't come in without ID." "It's all good!"
Tonight was the Afrika Bambaataa show, and there were some amazing breakdancers (Momodance.) I put up a few pictures that I captured from the webcast. There aren't very many, because these folks were moving really fast as they defied physics. One of the guys did this bit where it looked like he was riding a bucking bull -- but without the bull.